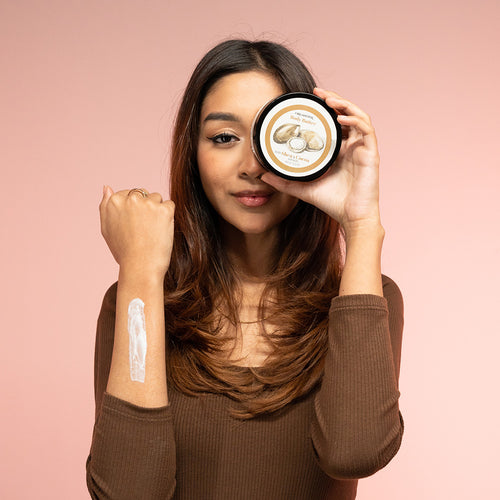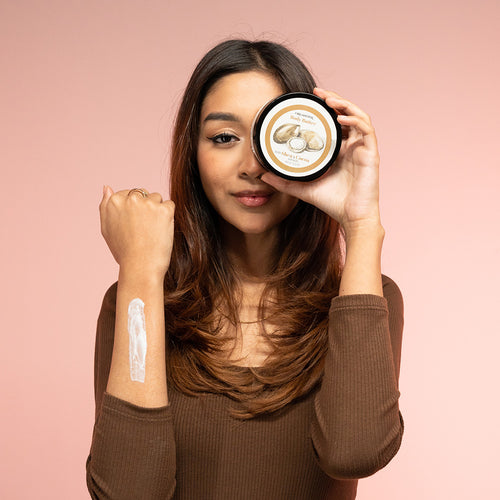 "Such a creamy and extremely mosturizing formula. Love it 💓" – Namra
Body Butter (Shea Butter)
Reduces wrinkles & tightens skin
Makes you look younger
Moisturizes & soothes skin
Best for sensitive skin & rashes
Gives you pinkish baby-soft skin
Makes you beautiful & attractive again
How To Use
After taking shower, pat-dry your skin. Apply the body butter on your skin (hands, arms, neck, legs, feet, and belly). If you have dry skin, do it daily or every two days. If normal skin, do it every 4th day or weekly. Or you can use as many times as you want.
Benefits
Reduce wrinkles, softens skin like butter.
Contains cocoa and shea that heals and smoothen the skin
Daily use results in improved skin health and glowy texture.
FAQs
Q: Is this for all skin types?
A: Yes, anybody with any skin type can use it safely, especially if you have normal to dry skin.
Q: Is this Shea Butter or Body Butter?

A: There is no such thing as shea butter alone, actually it's one of the main ingredients in this butter. Nobody can sell a shea butter alone, it is mixed with other elements like cocoa and hyaluronic acid etc.
There is nothing wrong to say this body butter a 'Shea Butter' but you must understand what's the true story.

Benefits
Remove Wrinkles, Soften Skin Texture & Look Younger Than Ever
Smooth Silky Skin Like Butter

Shea + cocoa massage makes skin softer like butter

Protect Skin Beauty & Glow

Dip skin in butter & forget dryness or damage

Healthy Skin, Strong Muscles

You need to grow again by growing (and glowing) your skin

Everybody's Favorite

Compelled to say that this is one of the most loved organic product by Organster family
More active ingredients for better efficacy
Shea Butter :
contains fatty acids that softens & hydrates skin
Cocoa Butter :
replenishes skin's moisture & locks it in
Vitamin E :
Reduces UV damage in skin
Hyaluronic Acid :
alleviates dry skin, reduces fine-lines & wrinkles
Aloevera :
fights sun-burn, moisturizes skin without greasy feel