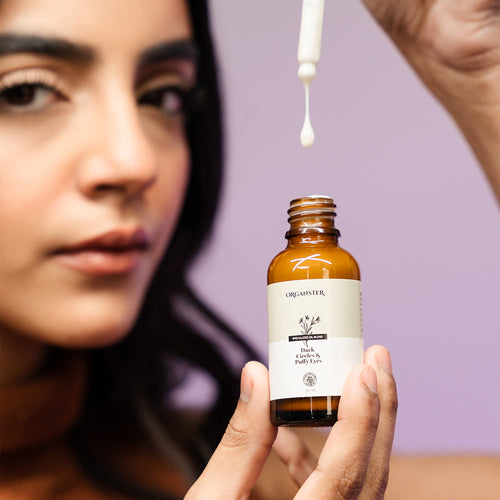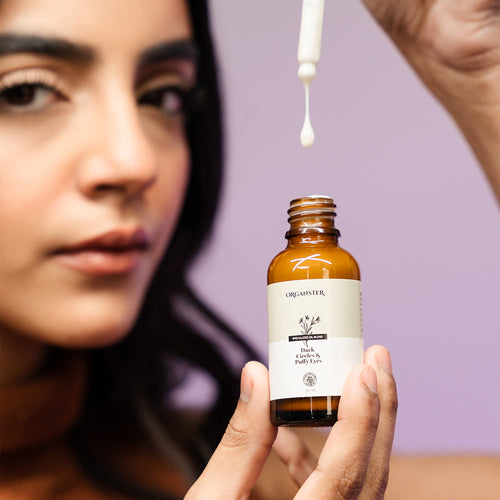 "Can't believe how it cleared dark spots not only around eyes but on forhead too. Go for it" – Amina Gulzar
Dark Circles & Puffy Eyes
Soothes puffiness & reduce dark circles
Reduce wrinkles/fine-lines around eyes
Treats bags, puffiness, redness, crow's feet
Daily use gives youthful glow
Pur Kashish Ankhein
Get beautiful eyes back like your childhood with our nature sourced eye serum.
How To Use
Pat dry your skin. Place few drops on finger-tips and start massaging the area around eyes.
Close your eyes while applying it. Don't let it touch the eye-lids. 
Let it fully absorbed into the skin, then leave it as it is. Use daily or as your skin suits.

Benefits
It removes dark circles around your eyes. It also treats eye-bags effectively.
It tightens and uplifts your skin around eyes.
It makes you look younger than your age.
It makes you look refreshed, energetic, and youthful.
It makes your skin tone even, smoother, and spot-free.
It is water-based (not oil) so it gets absorbed fully into the skin surface.
FAQs
Q: How this serum works?
A: This serum cools down the angry skin around eyes, removes dead skin, and replaces it with new fresh skin cell.
Q: Will it clear spots and crow's feet?

A: Definitely yes. It's made to clear out all spots, wrinkles, crow's feet, so you may look younger and beautiful as you are.
Benefits
This Cucumber Eye Serum Clears Dark Spots around Eyes & Makes You Look Younger & Refreshed
Soothe Skin Around Eyes

Cucumber gives soothing calmness to skin around eyes

Radiant Glow

Hyaluronic acid plumps & hydrates skin

Restore Youthful Looks

This serum

Antioxidants Reduce Free Radical Damage

Giant Kelp & Palmitoyl reduce skin roughness and save from moisture loss.
More active ingredients for better efficacy
Cucumber Extract :
antioxidant components that help reduce wrinkles
Hyaluronic Acid :
increases skin moisture & reduces wrinkles/fine-lines
N- Hydroxysuccinimide :
Eliminates the pigmentation under the eyes
Palmitoyl Tripeptide :
helps strengthen skin
Hexapeptide :
helps to reduces puffiness